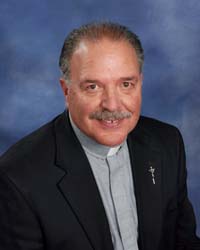 Deacon Jim Thorndill
Emeritus Retired Deacon
+1-616-459-4662
Jim is currently designated as an Emeritus Retired Deacon. He graduated from Grand Rapids Community College, with an Associate's degree in business, received a Bachelor degree of Science from Aquinas College in 1977, and a Bachelor's degree in Theology in 2007. He and his wife, Diane, entered the diaconate program in 1999 and was ordained by Bishop Walter Hurley on February 11, 2006. During his ministry at Saint Thomas the Apostle Parish, he served as the spiritual assistant for the Third Order Franciscans, held Life in the Spirit seminars, hosted a local television show in the West Michigan area called Catholic Forum, engaged as a guest host and the Development Director of Holy Family Radio, and served as an on-call chaplain at Mercy Health Saint Mary's Hospital.
Jim and Diane's greatest joy is to be with their children and grandchildren, spending holidays, birthdays and special events. They live in Heritage Hills, in a home which they have totally refurbished. They both love the hands-on work and the dedication of finishing a project and seeing the fruits of their labor.
In 2014, Jim completed studies at Manresa, a Jesuit retreat house and education Center in Bloomfield Hills, and was commissioned as a spiritual director, offering his services to the Diocese of Grand Rapids.