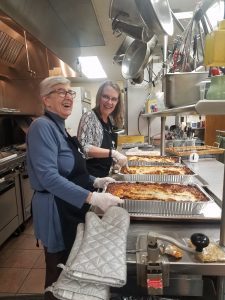 The Funeral Ministry supports parish families who have lost a loved one. The Funeral Luncheon is a celebration of Life and provides families and friends an opportunity to gather for lunch, share their stories and care for one another during a difficult time.
The luncheon offers a meal, fellowship and an outpouring of support by:
Helping grieving families ease their sense of sadness without the worry of having to feed guests.
Providing families with a sense of community, knowing others care for them, which can at times, be even more nourishing than the meal itself.
Allowing parishioners the opportunity to serve God through one another in ministry.
Ministry members feel a real sense of camaraderie and form life-long friendships while working in the kitchen and dining room together.
Additional ministry members are needed to assist with food preparation, kitchen help, dining room set up, and cleanup. You can also support the ministry by requesting to be on the email list of volunteers who provide a salad or dessert for the luncheon.
Contact the Lori Fedewa, Christian Service Director at the Parish Office at (616) 459-4662 ext. 1220 for more information.