The Christian Service ministry provides opportunities for parishioners to live out their Faith exemplifying the Corporal Works of Mercy (Matthew 25) and Catholic Social Teaching (Commandments and the teachings of Jesus) so that together we share the love of God and transform the world!
Saint Thomas Christian Service includes Hospital and Funeral Ministries, Social Justice Advocacy Ministry (SJAM), Advent Angel Ministry, Prayer Line, Direct Service (financial assistance for rent, utilities, and other monetary needs), Respect Life, and partnerships with God's Kitchen and Habitat for Humanity.
The benefits of serving God through ministry go beyond an act of kindness or feeling good about ourselves. When we serve others, we serve the Lord and grow deeper in our relationship with Christ. Ministry supports our worship and Parish life. Ministry is an excellent way to connect with other members of our community and grow in faith and friendships. It provides opportunities to learn more about other organizations like Habitat for Humanity and God's Kitchen that respond to broader community needs. Ministry is good for the family in modeling the importance of discipleship to our children…it can spark rich conversation about what our Faith teaches us and why. Through prayer, worship, the sacraments and ministry, we serve each other, the Body of Christ, and live out God's command to love one another as God has loved us…through His life, death and resurrection! Alleluia!
"Go therefore, and make disciples of all the nations…Teach them to carry out everything I have commanded you." Matthew 28:19-20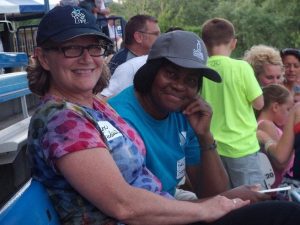 Contact Lori Fedewa, Christian Service Director, for more information. Call Lori at (616) 459-4662 ext. 1220 or email Lori.
---